october 2019 - hoi an
Reiki 1 Training & Retreat
Reiki 1 Training & Retreat
17 - 21 October, 2019
(5 days, 4 nights)
Hoi An, Vietnam
Immerse yourself with reiki as a way a life. With a thorough introduction into the history, practice and energetic understanding of this powerful healing technique, you'll gain the insight and awareness to continue a gentle self-practice though a carefully designed series of hands-on experiential workshops.
Next training: 9 - 13 January, 2020
book with yoga in vietnam and save $25 usd
(details below)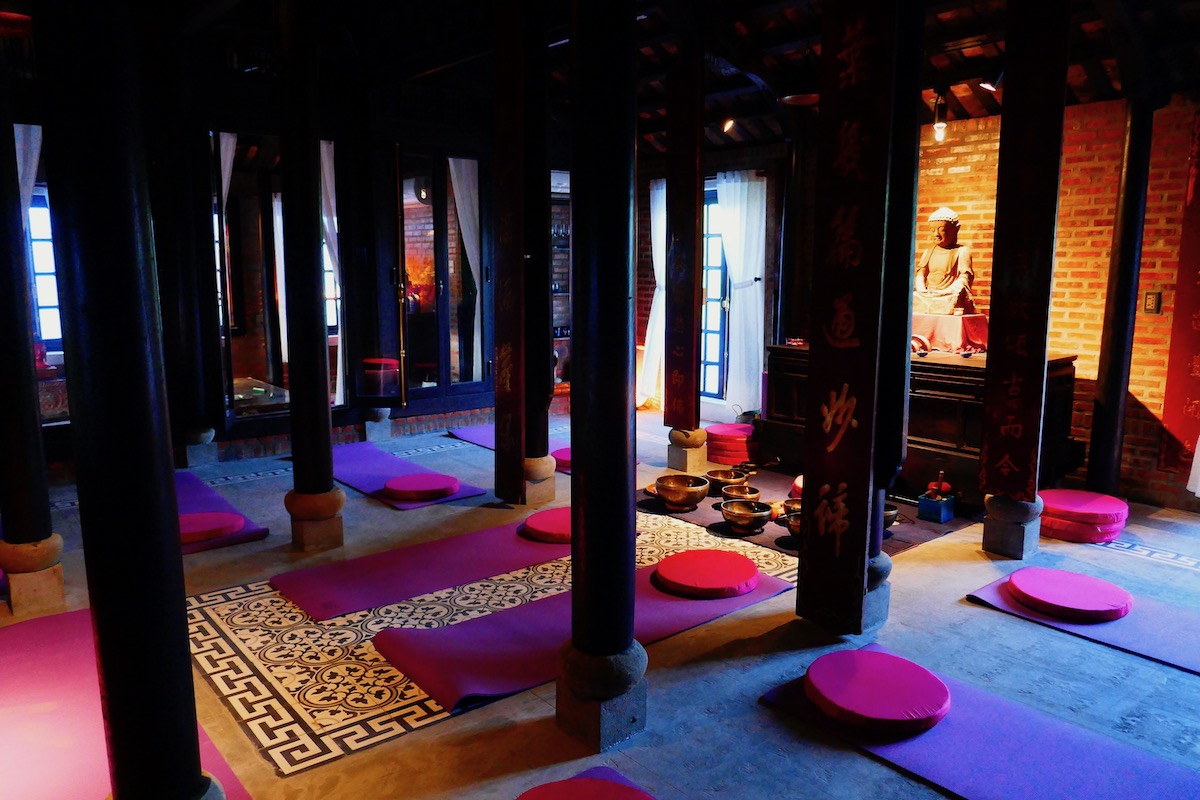 Program
Start: 17 October, 2019 at 2pm
Finish: 21 October, 2019 with check out at 2pm
Teacher and Master of Usui Shiki Ryoho Reiki, Naomi Rowan, will guide you through this transformative and awakening practice.
Discover ways in which you can incorporate the pillars of reiki into your daily routine, in order to live a more present, aware, loving and compassionate life.
In keeping with the teachings of Dr. Usui, we do not combine Reiki 1 and Reiki 2. We believe that the 21-day self practice following each level of reiki training is vitally important to open and balance your chakras and energetic being, before practicing on others.
A typical day will include meditation, discussion, time for self-reflection and a 'taught' element. View the full program.
Can't make October? Take this training & retreat in 2020: 9 - 13 January.
WHAT'S INCLUDED
Daily meditation

1:1 Reiki or Sound bowl healing

Reiki 1 Certification (IARP)

Level 1 Attunement

Welcome pack and retreat booklet

4 nights' accommodation

4 dinners and breakfasts, all snacks and soft drinks

3 lunches

Transfers to / from Danang International Airport or City

Pool / use of communal facilities

Use of bikes throughout your stay
what's not included
Flight costs

Alcoholic drinks

Additional 1:1 sessions or in-house massage

Additional excursions (not included above)

Visas

Health / Travel Insurance

Extra nights – you are welcome to extend your stay at an additional cost
SAVE $50 USD when you book with Yoga in Vietnam. Keep scrolling for details.
Accommodation
With private ensuite accommodation in Gratitude Vietnam's eco-friendly retreat centre, you are promised four days of relaxation, self-exploration, and space to begin your personal journey into this beautiful and grounding energetic healing technique.
Early Bird Rates until 18 August 2019
#.1 private room: $650 USD / per person
#2. Shared twin: $550 USD / per person
#3. Shared couple: $1,100 USD / per couple
#4. Shared triple: $500 USD / per person
Full prices: #1 - $750 USD, #2 - $650 USD, #3 - $1,300 USD, #4 - $600 USD
SAVE an additional $25 USD when you book with Yoga in Vietnam. Keep scrolling for details.
Exclusive Discount
Book through Yoga in Vietnam and claim an exclusive $50 USD discount off the retreat rate.
early bird rate with yiv discount*
#.1 private room: $625 USD / per person
#2. Shared twin: $525 USD / per person
#3. Shared couple: $1,075 USD / per couple
#4. Shared triple: $475 USD / per person
*valid until 18 August 2019. After which, claim $25 USD off the full retreat price.
To save your mat, a non-refundable deposit of 16% of the retreat rate is required. The remaining balance is due one month before the training starts directly to the organizers (payment plans also available).
About the Training & Retreat Facilitator
"Everything is energy, everything is vibration. "
Formally a music teacher and pastoral leader of 12 years, my 'previous' life was focused on bringing young people into alignment with themselves. I helped children develop their confidence, nurture self-worth and find their creative energies, so often quashed by the need to achieve and succeed.
Having taken a leap of faith and left a stable career to pursue a lifetime passion for mindfulness, meditation and energetic healing, I am now a Reiki Master/Teacher, Sound Bowl practitioner and retreat leader, and fortunate to be in a position to combine the tools and experience of the teaching profession with my core beliefs and practices.
A 'trauma' geek (and trauma aware), I am driven by the concept of the body-mind connection, whether neuroscientific, energetic, physiological or psychological. I believe that modern science is only now beginning scratch the surface of ancient wisdom; being aware of our thoughts, bodily sensations, intuition, actions and reactions enables us to retrain our habitual patterns into a life of gratitude, love and compassion – towards self and other.
Through my own journey, I have explored various practices and found many tools along the way that make individual empowerment possible. All of our retreats are carefully planned and tailored to give you a gentle, powerful journey of self, and time to explore how you can embed these tools into your daily life, once you leave the safe bubble of 'time out'.