december 2019 - hoi an
Alternative New Year Retreat
7-Day Alternative New Year Retreat
27 December, 2019 - 2 January, 2020
(7 days, 6 nights)
Hoi An, Vietnam
Reflect, Release, Manifest, Renew
Looking to unwind after Christmas, avoid the crazy parties and welcome in the New Year with a clear head and like-minded people? Feeling a little stuck and wanting direction in place of arbitrary (and unachievable!) resolutions?Make 2020 the year to address these unmet needs - give yourself the gift of change and time for transformation.
Kickstart 2020 with mind, body and soul in alignment. Give yourself 7-days to explore focused workshops, daily yoga, meditation, reflective writing and deliciously healthy food. We offer you time, space and compassionate support to take a step back and evaluate ways in which you can immediately make change to bring your values and lifestyle into alignment.
Next Retreat: 27 December 2020 - 2 January 2021
book with yoga in vietnam and save $50 usd
(details below)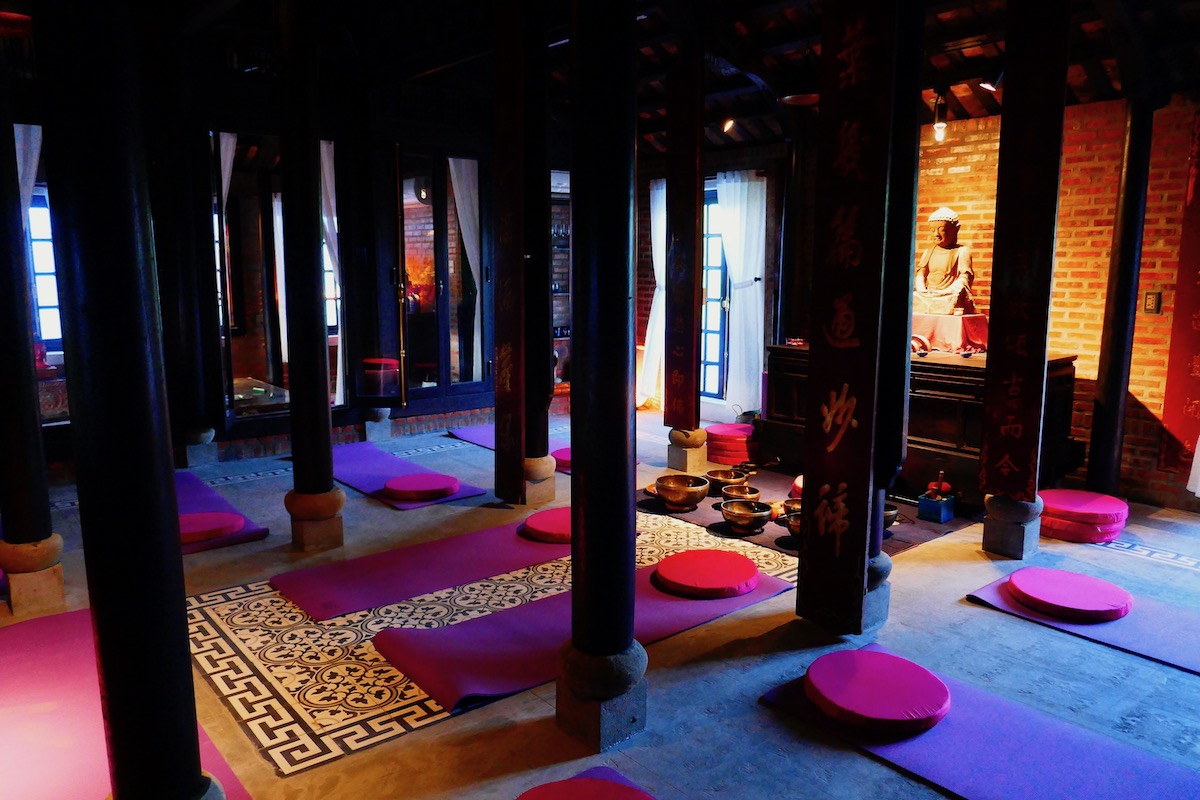 Program
Start: 27 December, 2019 with check-in from 4pm
Program ends 2 January, 2020 with check-out until 2pm. Please book travel accordingly.
Grounding ceremonial puja to release the things that no longer serve and make room for more joy, laughter, compassion, love and awareness.

Daily meditation practices, including: Sound bath meditation with beautiful Tibetan singing bowls, Yoga Nidra, Trataka meditation, Writing reflection, and Mantra meditation

Daily yoga sessions in a stunning open-air yoga sala

Workshops to allow for deep self-reflection, and mindful awareness. Reflect on the relationships in your life - with yourself and others - how you spend your time, your internal thought processes and belief systems. Leave with direction and clarity on achievable changes you can make immediately to improve your quality of life for the years to come. Learn to make decisions made from the heart.

Workshops will include: Journalling and reflective writing, Mindful creative activities, Reflective activities to review your own life and ways in which you can incorporate mindfulness into a busy schedule, Being 'in the body' – mindful awareness of intuition, felt sense and bodily sensations, Awareness of thought and self-compassion, Manifesting in multi-colour, Finding your true North

Your stay will include a fun, informative and delicious Vietnamese cookery course.

You will also enjoy a fabulous dinner in Hoi An to further sample local Vietnamese cuisine.
View the full, detailed program here.
Can't make it in 2019? Join Gratitude Vietnam on this retreat in 2020 from 27 December, 2020 to 2 January, 2021.
WHAT'S INCLUDED
6 nights' accommodation

All food, soft drinks and snacks

Cookery course at Tra Que Vegetable Village

Dinner in Hoi An old town

All scheduled yoga classes, meditation and workshops

Transfers to / from Danang International Airport

Welcome pack and retreat booklet

Pool / use of communal facilities

Use of bikes throughout your stay

Use of yoga mats, bolsters and props
what's not included
Flight costs

Alcoholic drinks

1:1 sessions or in-house massage (available)

Additional excursions (not included above)

Visas

Health / Travel Insurance

Extra nights – you are welcome to extend your stay at an additional cost
SAVE $50 USD when you book with Yoga in Vietnam. Keep scrolling for details.
Accommodation
With private ensuite accommodation in Gratitude Vietnam's eco-friendly retreat centre, you are promised four days of relaxation, self-exploration, and space to begin your personal journey into this beautiful and grounding energetic healing technique.
Early Bird Rates (until 31 Oct 2019)
#.1 private room: $1,150 USD / per person
#2. Shared twin: $950 USD / per person
#3. Shared couple: $1,900 USD / per couple
#4. Shared triple: $900 USD / per person
Full Prices after 31 October, 2019: #1 - $1,250 USD | #2 - $1,150 USD | #3 - $2,300 USD | #4 - $1,100 USD
SAVE an additional $50 USD when you book with Yoga in Vietnam. Keep scrolling for details. Inquire below for 2021 rates.
Exclusive Discount
Book through Yoga in Vietnam and claim an exclusive $50 USD discount off the retreat rate.
early bird rate with yiv discount*
#.1 private room: $1,100 USD / per person
#2. Shared twin: $900 USD / per person
#3. Shared couple: $1,850 USD / per couple
#4. Shared triple: $850 USD / per person
*Until 31 October, 2019. After which, enjoy $50 USD off the full retreat rate.
To save your mat, a non-refundable deposit of 16% of the retreat rate is required. The remaining balance is due directly to the organizers.
About the Retreat Host
This retreat is organized and hosted by Gratitude Vietnam.
Gratitude Vietnam is a welcoming, eco-friendly oasis of total relaxation, peace and tranquility. With a pool, 8 ensuite bedrooms, meditation room, garden, and purpose-designed outdoor space sheltered from the elements, the villa is perfect for hosting healing retreats or accommodating large groups for a private holiday or event. Gratitude Vietnam takes care of every part of your journey, making sure everything is as you'd like it to be.
This offer is in partnership with Gratitude Vietnam and is subject to our Terms & Conditions.