july 2020 - hoi an
Yoga & Meditation Holiday Retreat
9-Day Yoga & Meditation Holiday Retreat
4 - 12 July, 2020
(9 days, 8 nights)
Hoi An, Vietnam
Enjoy the perfect balance of relaxation, yoga and meditation with memorable cultural experiences.
With twice-daily yoga and evening meditation, combined with a fun-packed week of Vietnamese cookery, lantern making, excursions and a trip to the beautiful An Bang beach, you'll leave feeling recharged, refreshed and energised.
Daily guided yoga classes to unwind and re-connect with your inner voice through a gentle combination of Yin Yoga and Hatha Yoga.
Release the tension and the stresses of your daily life in stillness and reflection, starting and ending your day through finding 'home' in your body.
Next Retreat: 3 - 11 July, 2021
book with yoga in vietnam and save $50 usd
(details below)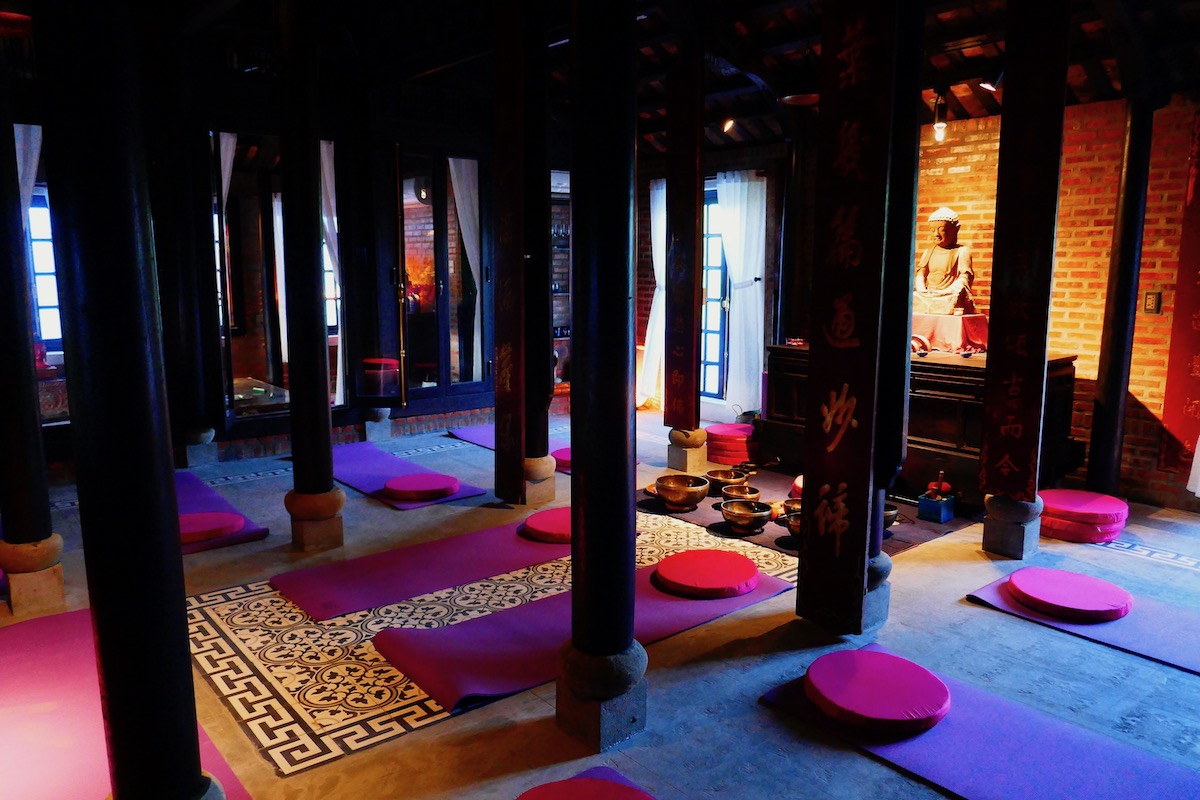 Program
Start: 4 July, 2020 at 2pm
Program ends 12 July, 2020 with checkout at 2pm. Please book travel accordingly.
Enjoy daily meditation practices, including: Sound bath meditation with beautiful Tibetan singing bowls, Yoga Nidra, Trataka meditation, Writing reflection, and Mantra meditation

Practice twice daily yoga sessions in the morning and evening, in a stunning open-air yoga sala

Relax on the renowned An Bang Beach

Explore the wonders of nature and rural life on a guided pedal bike tour of the paddy fields and surrounding villages

Learn about the ancient organic farming and cooking techniques still used today, as you delight in a Vietnamese Cooking Course at Tra Que Vegetable Village

Make a colourful Vietnamese lantern – the perfect souvenir!

Witness over 1500 years of history at the Hindu temples of My Son Sanctuary

Discover the coconut groves away from other tourists on a basket boat tour

Snorkel, swim or sit back and enjoy the view on a day trip to the UNESCO world Heritage Cham Islands Biosphere Reserve

Enjoy an evening of delicious Vietnamese cuisine as you witness the iconic lanterns on the beautiful Thu Bon River

Experience the heritage and history of the fascinating UNESCO World Heritage Site, Hoi An old town during a walking street food tour.
Can't make it in 2020? Join Gratitude Vietnam on this retreat in 2021 from 3 - 11 July, 2021.
WHAT'S INCLUDED
8 nights' accommodation

All food, soft drinks and snacks

All scheduled yoga classes, meditation and planned excursions

Transfers to / from Danang International Airport

Welcome pack

Pool / use of communal facilities

Use of bikes throughout your stay

Use of yoga mats, bolsters and props
what's not included
Flight costs

Alcoholic drinks

Additional 1:1 sessions or in-house massage

Additional excursions (not included above)

Visas

Health / Travel Insurance

Extra nights – you are welcome to extend your stay at an additional cost
SAVE $50 USD when you book with Yoga in Vietnam. Keep scrolling for details.
Accommodation
With private ensuite accommodation in Gratitude Vietnam's eco-friendly retreat centre, you are promised four days of relaxation, self-exploration, and space to begin your personal journey into this beautiful and grounding energetic healing technique.
Early Bird Rates (until 4 Jan 2020)
#.1 private room: $1,625 USD / per person
#2. Shared twin: $1,365 USD / per person
#3. Shared couple: $2,730 USD / per couple
#4. Shared triple: $1,265 USD / per person
Full Prices after 4 January, 2020: #1 - $1,725 USD | #2 - $1,465 USD | #3 - $2,930 USD | #4 - $1,365 USD
SAVE an additional $50 USD when you book with Yoga in Vietnam. Keep scrolling for details. Inquire below for 2021 rates.
Exclusive Discount
Book through Yoga in Vietnam and claim an exclusive $50 USD discount off the retreat rate.
early bird rate with yiv discount*
#.1 private room: $1,575 USD / per person
#2. Shared twin: $1,315 USD / per person
#3. Shared couple: $2,680 USD / per couple
#4. Shared triple: $1,215 USD / per person
*Until 4 January 2020. After which, claim $50 USD off the full retreat rate.
To save your mat, a non-refundable deposit of 16% of the retreat rate is required. The remaining balance is due directly to the organizers.
About the Retreat Host
This retreat is organized and hosted by Gratitude Vietnam.
Gratitude Vietnam is a welcoming, eco-friendly oasis of total relaxation, peace and tranquility. With a pool, 8 ensuite bedrooms, meditation room, garden, and purpose-designed outdoor space sheltered from the elements, the villa is perfect for hosting healing retreats or accommodating large groups for a private holiday or event. Gratitude Vietnam takes care of every part of your journey, making sure everything is as you'd like it to be.
This offer is in partnership with Gratitude Vietnam and is subject to our Terms & Conditions.