october 2019 - hue
Return to Source Yoga Retreat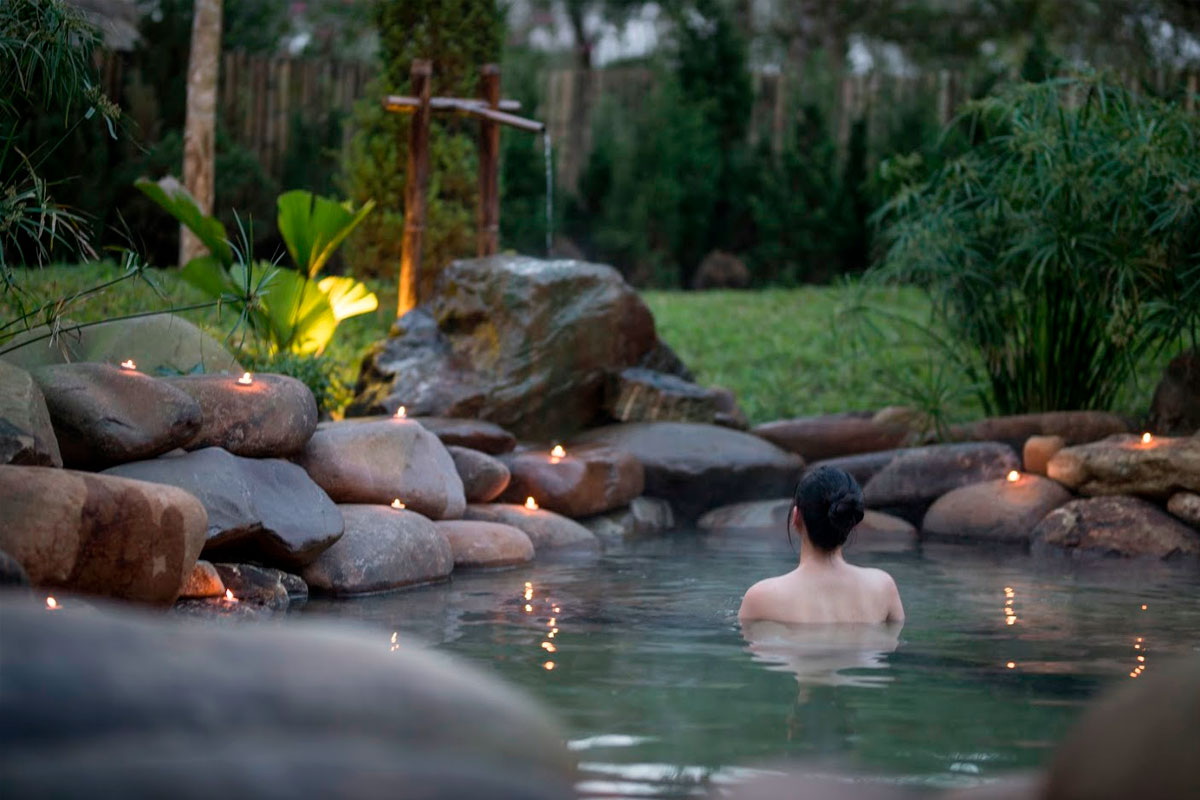 Return to Source Yoga Retreat
11 - 14 October 2019
(4 days, 3 nights)
Hue, Vietnam
Join Victor O'Boyle and Bianca Cassingena on this 4-day all inclusive luxury wellness retreat.
This unique and exclusively designed retreat incorporates Victor's extensive yoga philosophy and knowledge of Asanas, providing you with a brilliant, in-depth philosophical and practical yoga experience and Bianca's stress and relaxation program that aims at treating stress and anxiety from the root cause. Her extensive body-mind skill set of psychology and alternative healing modalities will bring you key techniques to change the way you look at stress and anxiety and empower you to live a life of happiness. This retreat will focus on the water element, the natural hot springs, and it's healing properties and knowing how to use this element on a daily basis will bring you clarity, cleansing and revitalization.
book with yoga in vietnam and save $50 usd
(details below)
Program
Yoga Class Themes
Understanding Flow

Swadhisthana chakra

The water element and yoga

Yoga and the sub – conscious mind
Self Development Seminar Themes
The core principals of the water element

The emotions and functions associated with water

Practical tools for cleansing, purification and flow

Returning to source
Daily Schedule*
06:00 Wake up and refreshing tonic
07:00 Yoga class
08:15 Vegetarian breakfast
09:30 Meditation
10:00 Free time (acrobranching, zip line, hiking and outdoor hot springs)
12:00 Vegetarian Lunch
14:00 Body-mind seminar (includes different themed group hypnotherapy sessions, meditations, theory and discussion time)
16:00 Onsen experience
17:00 Spa treatment
18:00 Vegetarian dinner
19:30 Evening ceremony
20:30 Quiet time
*subject to change
Accommodation
This retreat is located on 50 pristine hectares of lakes and lush gardens at the foot of the Truong Son mountains, at the luxurious Alba Wellness Valley where rest, relaxation and the healing qualities of Thanh Tan natural hot springs combine to form the holistic Alba lifestyle. Set in beautifully landscaped gardens with ornamental lakes, red bridges and tranquil bamboo paths this space is the epitome of wellness.
Your accommodation includes daily spa treatments, daily use of the Onsen (Japanese hot springs) which includes a number of different hot spring pools, a sauna and a steam room. You will have the opportunity to use the zip line which cuts through the eucalyptus forest or perhaps take the opportunity to adventure with acrobranch. Each guest receives a bicycle which allows you to take rides around the whole Alba valley.
Rates
All options below include: daily breakfast, lunch and dinner, unlimited hot springs bathing, daily 01 reflexology treatment (50 minutes) per adult / night, daily 01 Onsen bath journey (30 minutes) per adult / night, complimentary movement therapies, daily one time zipline and highwire, complimentary airport shuttle transfer as per schedule (Hue airport), free wi-fi internet access.
#1. superior room: $799 usd / per person
#2. deluxe room: $936 usd / per person
This option also includes: complimentary shuttle bus to Hue city as per daily schedule, healthy welcome drink upon arrival, and welcome fruit in room upon arrival.
#3. bungalow: $1,199 usd / per person (1 bed)
2 Beds: $1,599 USD
This option also includes: daily 02 reflexology treatment (50 minutes) per adult / night, complimentary shuttle bus to Hue city as per daily schedule, healthy welcome drink upon arrival, welcome fruit in room upon arrival, and turn down service.
SAVE $50 USD when you book with Yoga in Vietnam. Keep scrolling for details.
Exclusive Discount
Book through Yoga in Vietnam and claim an exclusive $50 USD discount off the retreat rate.
rate with yiv discount
#1. superior room: $749 usd / per person
#2. deluxe room: $886 usd / per person
#3. bungalow: $1,149 usd / per person (1 bed) or $1,549 USD (2 beds)
To save your mat, a non-refundable deposit of 50% of the retreat rate per person is required. The remaining amount is due directly to the organizer by 1 September 2019.
About the Retreat Facilitators
Victor O'Boyle is a 500 hour certified yoga teacher from France and teaches the Anatomy & Asana workshops for Nomad Yoga's teacher training program.
Victor's spiritual Journey began in 2012 after a near death car accident. He discovered that yoga was not only a way to recover but also a way to find inner peace and happiness. For Victor, yoga is connecting the body, the breath and the mind, and finding stillness in that connection.
He has taught classes, workshops and retreats in New York City, Costa Rica, South Africa and France. Victor is also a certified reiki facilitator. Today he is grateful and honoured to be conducting this Nature's Healing retreat in Hoi An, Vietnam.
Bianca Cassingena has dedicated the past 10 years to understanding human behaviour and the inner workings of our conscious and subconscious mind. Her journey started with her degree in Psychology where she completed her Bachelor of Arts in Psychology in 2012 her Honours in Educational Psychology in 2014 and her Master's in Educational Psychology in 2017 at the University of the Witwatersrand. Her passion for working with children with special needs led her to working with children with Autism for three years.
She has dedicated her time to finding a way to merge conventional and alternative modalities. Bianca's fascination with the subconscious mind led her to the door of Hypnotherapy. Here she discovered the power behind releasing old patterns and belief systems within the subconscious mind. She discovered that if we are able to understand the core wounding behind our limiting beliefs/patterning and physical dis-ease we are able to live in harmony and happiness. Her journey further led her to qualifying as a Hypnotherapist (non medical), BodyTalk practitioner, Reiki facilitator and LifePrint analyst.
Bianca believes the power behind healing and reaching your ultimate potential lies within not without. Thus, her approach to healing involves empowering her clients to become their own personal expert.
Learn more about Victor and Bianca on their website.
WHAT'S INCLUDED
3 nights luxury accommodation at Alba Wellness Valley

Breakfasts, lunches, dinners and snacks

Daily yoga and meditation classes

Group hypnotherapy

Self development seminars

Swimming pool and towel

Spa treatments (massages and reflexology)

Daily use of the onsen (Japanese hot springs)

Airport transfers

Zipline

Acrobranch

Gym access

Movement programs

Forest Hikes

Kombucha, infused waters and herbal teas
what's not included
International or domestic airfares/bus/train tickets to come to Hue

Visa fees and travel insurance (highly recommended)

Optional External Activities