november 2019 - da lat
OMandala Holistic Retreat
OMandala Holistic Retreat
1 - 3 November, 2019
(3-days, 2-nights)
Da Lat, Vietnam
There is a child in each of us who is still looking to play and connect to the spirit of trick or treating on Halloween Day. Recharge and restore your energy with wholesome activities in nature on this weekend break from the hustle and bustle of city life. This special edition retreat takes you to the mountains of Da Lat, Central Vietnam.
book with yoga in vietnam and save $20 usd
(details below)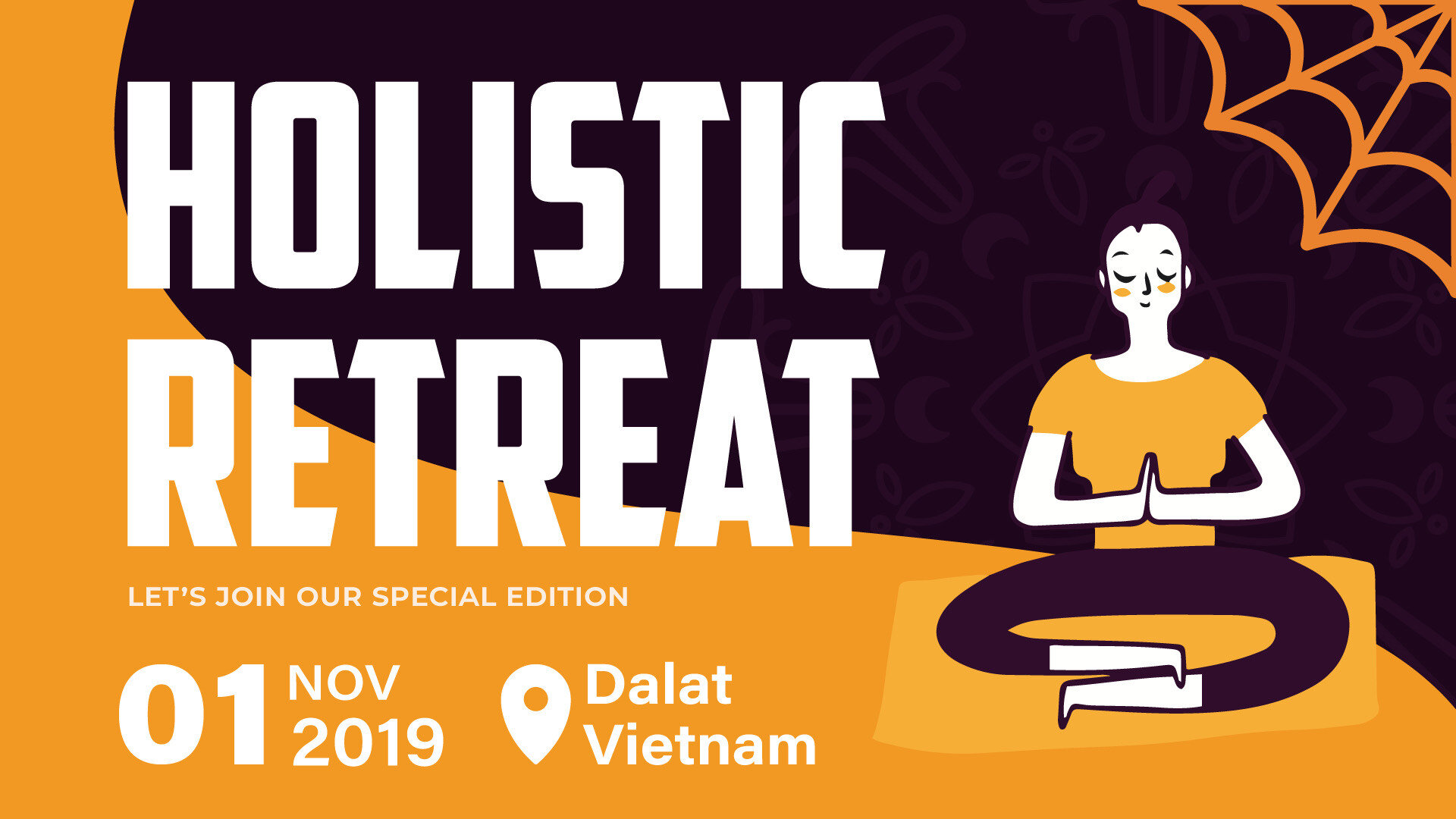 Schedule & Program
Leave HCMC at 12am on 1 November (night bus)
Arrive back in HCMC at 9:30pm on 3 November
Day 1
10:00 Check in

12:00 Free time at the retreat house. This is the time for you to take a nap. Use your free times as you want after long trip on the bus

15:00 Outdoor activities: Visit organic farm and get to know local life. Omandala Vietnam is sure that you would love the time there.

17:00 Dinner together in the town. Omandala Vietnam will choose the place for all our group with vegan and non-vegan options. After dinner, you will be taken on a walk along the street in the city, grab some hot soya milk with bread and enjoy it on the hill.

20:00 Return to the retreat house

20:30 Talk at night. This is the time of talk and let go of things no longer serving us. Retreat leaders will guide and lead the story, the only things they ask of you is to allow yourself to be open to healing.
Day 2
08:00 Power Yoga class. Start your day fresh with some power postures and breathing exercises.

09:00 Breakfast at the retreat house. You will be served with fresh breads and tropical fruits. Healthy food is the sustainable standard during the retreat.

10:15 Outdoor activity: Mountain games/chill at the coffee shop with some puppies and enjoy a cultural exchange, learning some basic Vietnamese words.

12:00 Lunch in the city.

13:30 Adventure to explore the local market. Group activity: Build a dinner menu together and decide who's in charge of what dishes. Try to get material /ingredients on your own using your new Vietnamese words.

15:00 Cooking class at the retreat house. Remember all your materials? Wanna take the challenge? Let's cook!

18:00 Family dinner. Treat yourself with your own homemade meal.

19:30 Sound Healing session with Tibetan singing bowls to feed your soul. This healing session will include the healing power of nature and the heat of serene candles. Calm your mind, connect to your soul and breathe easy which you won't be able to get in the hustle and bustle of busy lives.

20:30 It's wine time! Omandala Vietnam knows where to get the finest wine in the city. They invite you to have a second talk treatment on retreat.
Day 3
08:00 Yoga with singing bowls. That means you will do yoga in 45 minutes and heal in savasana with the vibrations of the singing bowls.

09:00 Breakfast in retreat house.

10:00 Check out and bus back to Ho Chi Minh City
WHAT'S INCLUDED
Transportation via bus from Ho Chi Minh City to Da Lat and back

2x nights accommodation in a cosy and tranquil house

Daily Yoga classes

Daily Sound Healing sessions

Daily Meditation and Talk Treatments

Daily meals

Cooking class

Motorbike for outdoor activities

Excursions fees

Green Mats, pillows, and towels
what's not included
International or domestic airfares/bus/train tickets to Ho Chi Minh City, Vietnam

Additional trips or shopping outside the city

Travel insurance

Visa fees
Accommodation & Rates
The retreat house, located in Da Lat, offers spacious apartment decorated with wooden furniture and modern lifestyles. Options include double room for couples, extra bed for children, and shared dorm rooms for groups or single travelers. All rooms include cozy essentials and fragrant, clean spaces.
Outside of the rooms, the retreat house includes a large common kitchen with buffet table for participants to share a meal and cooking time together. The kitchen is the heart of the house, the place where keep the story is kept warm for the rejuvenation of the body and mind.
In front of the house is the Green Yard that has old style chairs to enjoy your moments with a cup of tea. The morning yoga classes take place here. On retreat, you will smell the fresh air from the pine forest and listen to the local nature sounds to create unforgettable memories.
The tranquil terrace is saved for retreat talks at night. Enjoy a glass of Da Lat wine and tell your story while the others tell theirs.
$155 usd / per person
SAVE $20 USD when you book through Yoga in Vietnam. Keep scrolling.
Exclusive Discount
Book through Yoga in Vietnam and claim an exclusive $20 USD discount:
with yiv discount: $135 usd / per person
To save your mat, a non-refundable deposit of $67.50 USD (50%) is required per person. The remaining balance is due directly to the organizer.
About the Retreat Facilitators
Quynh Duong is the founder and owner of Omandala Vietnam Business. She was originally a hospitality manager in Hanoi capital and Phu Quoc Island for 4 years. Working in hospitality helped her to understand how to give well-organized retreats that hold up to high standards for you.
As a Tibetan singing bowl Therapist, Quynh trained in Sound Planetarium and Natural Sound Therapy with masters in Nepal. The sequences from these methods are different from each other, as she strikes the bowls differently to allow deep, beautiful sound and vibration of the bowls. She has become a thoughtful coach in meditation and offers sound healing sessions. After these private sessions, her customers say she is the best therapeutic healer. She coaches them through their problems and they can completely allow awareness to arise about all their issues and let go of things that no longer serve them. After years of teaching and doing sound healing treatments, her knowledge and expertise with the guests, she will guide you in her retreats with awareness of self-care and wellbeing.
Anna Le is an authentic and trustful teacher. She finished 200 hours training at New Yoga Angle of Power Vinyasa Focus in 2017. She gets to teaching yoga as her passions to support others find happiness with yoga and not forcing their bodies. We all have different teaching styles, with Anna Le, she combines yoga postures and meditation on the mat, with a focus on the present moment or just being in your savasana pose. Attending her classes, students can completely focus on their Drishti and gazes on the mat and fulfill the poses in a flow where you can understand your level of flexibility and your resistance at the same time. "Change is never painful, only resistance to change is painful."
This offer is in partnership with OMandala Vietnam and is subject to our Terms & Conditions.