february 2020 - hoi an
Living a Mindful Life Retreat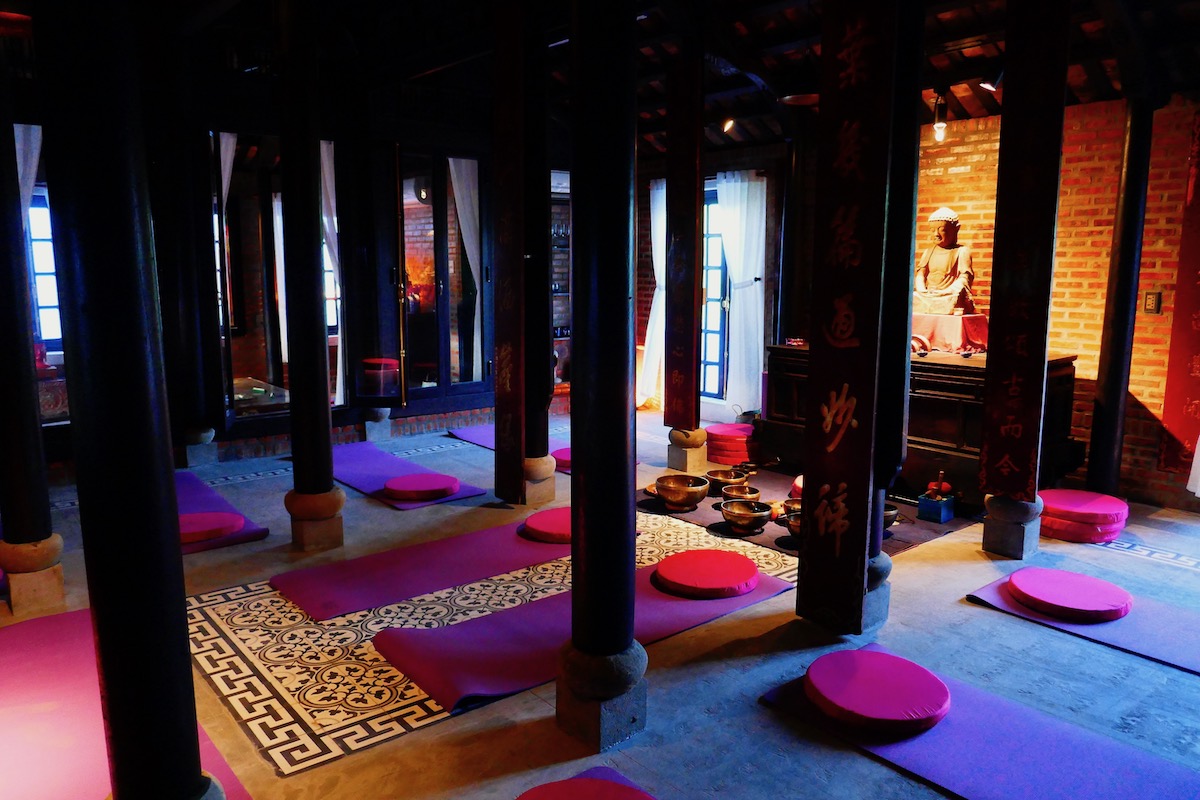 8-Day Living a Mindful Life Retreat
1 - 8 February, 2020
(8 days, 7 nights)
Hoi An, Vietnam
Press pause on your busy life, step out of 'auto-pilot' and challenge yourself to think and 'be' in a different way. Join us for an immersive and gentle introduction to living in mindful awareness. Through self-inquiry and reflective workshops, discover the benefits of 'being present'.
Reconnect with your inner self and the world around you in a joyful, compassionate, rejuvenating and reflective week. Gain techniques and tools to reduce anxiety, stress and indecision, and cultivate a rewarding, fulfilling and joyful approach to life. A typical day will include morning yoga (suitable for all levels), a mindful workshop, an information session on current research and mindful practice, and an evening meditation.
book with yoga in vietnam and save $50 usd
(details below)
Program
Start: 1 February, 2020 with check-in at 2pm
Program ends 8 February, 2020 with check-out at 12pm
Workshops designed to transform your life through exploration of empowering tools you can easily take away and use at home. Through mindful, conscious and deep work on your own, in pairs and whole-group activities, you'll be free to cleanse and heal on a conscious and subconscious level.

Workshops will include: Journalling and reflective writing, Mindful food, Mindful creative activities, Sensory awareness, Reflection activities to review your own life and ways in which you can incorporate mindfulness into a busy schedule, Being 'in the body' – mindful awareness of intuition, felt sense and bodily sensations, and Awareness of thought and self-compassion.

Daily meditations, such as: Walking labyrinth meditation, Sound bath meditation with beautiful Tibetan Singing Bowls, Yoga Nidra, Trataka meditation, Mantra meditation, Movement meditation, Guided imagery and music meditation.

Daily yoga sessions, gentle practices including Yin and Hatha Yoga.

Information sessions that explore topics such as What is mindfulness? Research and healing effect on the body and mind, Mindfulness for children – activities and benefits, Mindfulness at work, Retraining the inner critic: NLP – you are your thoughts, Mindfulness for anxiety, Mindful self-compassion, Mindful conversation.

Group Excursion for an evening of delicious Vietnamese cuisine as you witness the iconic lanterns on the beautiful Thu Bon River.
WHAT'S INCLUDED
7 nights' accommodation

All food, soft drinks and snacks

Thu Bon River boat cruise and dinner

All scheduled yoga classes, meditation and workshops

Transfers to / from Danang International Airport

Welcome pack and retreat booklet

Pool / use of communal facilities

Use of bikes throughout your stay

Use of yoga mats, bolsters and props
what's not included
Flight costs

Alcoholic drinks

1:1 sessions or in-house massage (available)

Additional excursions (not included above)

Visas

Health / Travel Insurance

Extra nights – you are welcome to extend your stay at an additional cost
SAVE $50 USD when you book with Yoga in Vietnam. Keep scrolling for details.
Accommodation
With private ensuite accommodation in Gratitude Vietnam's eco-friendly retreat centre, you are promised four days of relaxation, self-exploration, and space to begin your personal journey into this beautiful and grounding energetic healing technique.
Early Bird Rates (until 13 Oct 2019)
#.1 private room: $1,350 USD / per person
#2. Shared twin: $1,150 USD / per person
#3. Shared couple: $2,300 USD / per couple
#4. Shared triple: $1,100 USD / per person
Full Price (after 13 Oct 2019): #1 - $1,550 USD, #2 - $1,350 USD, #3 - $2700 USD, #4 - $1,300 USD
SAVE an additional $50 USD when you book with Yoga in Vietnam. Keep scrolling for details.
Exclusive Discount
Book through Yoga in Vietnam and claim an exclusive $50 USD discount off the retreat rate.
early bird rate with yiv discount
#.1 private room: $1,300 USD / per person
#2. Shared twin: $1,100 USD / per person
#3. Shared couple: $2,250 USD / per couple
#4. Shared triple: $1,050 USD / per person
*Until 13 October, 2019. Thereafter, claim $50 USD off the full retreat rate.
To save your mat, a non-refundable deposit of 16% of the retreat rate is required. The remaining balance is due directly to the organizers by 1 January, 2020 (payment plans available).
About the Retreat Host
This retreat is organized and hosted by Gratitude Vietnam.
Gratitude Vietnam is a welcoming, eco-friendly oasis of total relaxation, peace and tranquility. With a pool, 8 ensuite bedrooms, meditation room, garden, and purpose-designed outdoor space sheltered from the elements, the villa is perfect for hosting healing retreats or accommodating large groups for a private holiday or event. Gratitude Vietnam takes care of every part of your journey, making sure everything is as you'd like it to be.
This offer is in partnership with Gratitude Vietnam and is subject to our Terms & Conditions.