september 2020 - hoi an
Chakra Balancing Retreat
10-Day Chakra Balancing Retreat
18 - 27 September, 2020
(10 days, 9 nights)
Hoi An, Vietnam
This loving and compassionate retreat will take you on a personal heart-centred journey of transformation.
Through focused workshops, meditations, daily yoga and a delicious menu designed around the chakra work, you'll have the space, time and support to expand your self-awareness, evaluate blockages that cause stagnation, reenergise, and find ways to truly take charge of your direction.
As you tune in to your intuitive, energetic felt sense and undertake a beautiful journey of mindful awareness, you'll truly discover the real 'you' as well as ways to build this awareness into your daily life.
book with yoga in vietnam and save $50 usd
(details below)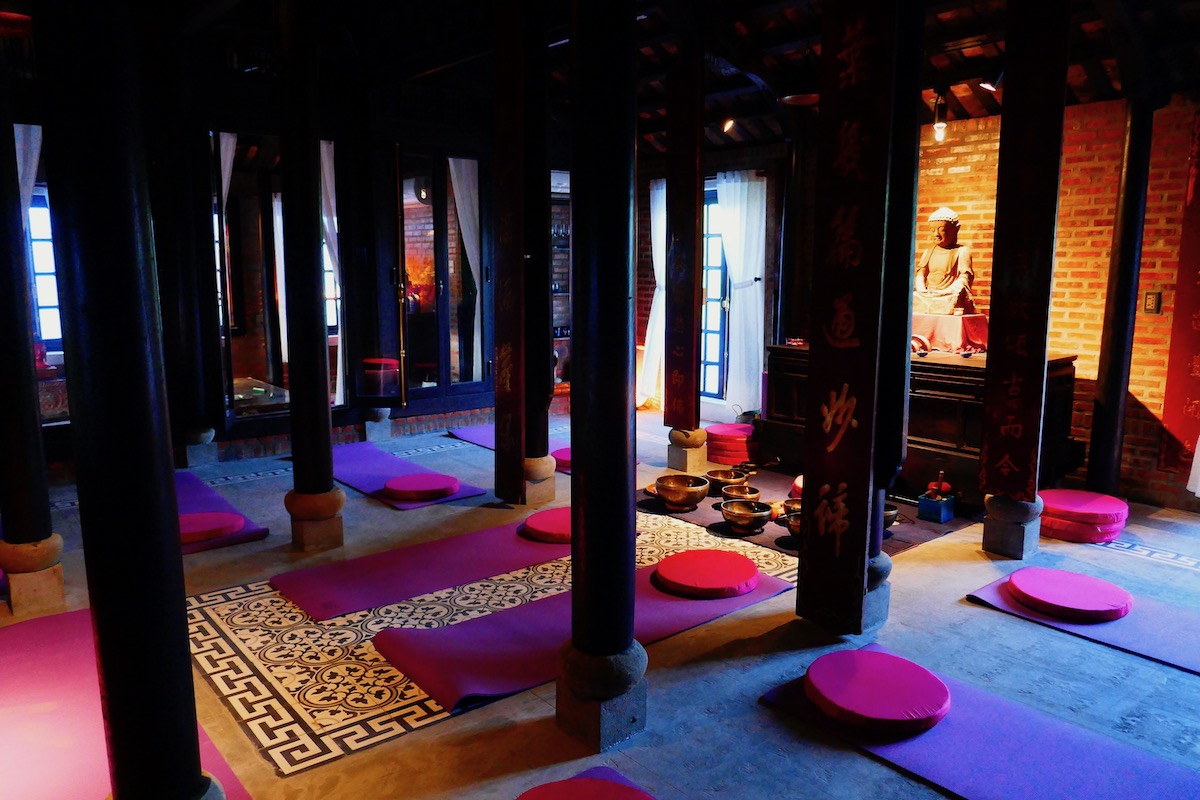 Program
Start: 18 September, 2020 with check-in at 2pm
Program ends 27 September, 2020 with check-out at 2pm
Workshops include creative writing, journalling, creative activities, group discussions, exploration of boundaries, sensory activities and mindful awareness.

Mediations to suit each chakra, including walking labyrinth meditation, sound bath meditation with beautiful Tibetan singing bowls, Yoga Nidra, Trataka meditation, movement meditation, guided imagery and music meditation, and mantra meditation.

Daily yoga sessions to energise and balance each of the chakras, and so vary in style accordingly.

1:1 healing session with your choice of sound healing, Reiki session or Guided Imagery and Music journey.

Activities and excursions giving you the opportunity to explore the local area, discover its history and experience authentic rural life, including:

Enjoy an evening of delicious Vietnamese cuisine as you witness the iconic lanterns on the beautiful Thu Bon River

Experience the heritage and history of the fascinating UNESCO World Heritage Site, Hoi An old town

Relax on the renowned An Bang Beach

Explore the wonders of nature and rural life on a guided pedal bike tour of the paddy fields and surrounding villages
WHAT'S INCLUDED
9 nights' accommodation

All food, soft drinks and snacks

All scheduled yoga classes, workshops, 1:1 sessions, meditation and planned excursions

Transfers to / from Danang International Airport

Welcome pack and retreat booklet

Pool / use of communal facilities

Use of bikes throughout your stay

Use of yoga mats, bolsters and props
what's not included
Flight costs

Alcoholic drinks

Additional 1:1 sessions or in-house massage

Additional excursions (not included above)

Visas

Health / Travel Insurance

Extra nights – you are welcome to extend your stay at an additional cost
SAVE $50 USD when you book with Yoga in Vietnam. Keep scrolling for details.
Accommodation
With private ensuite accommodation in Gratitude Vietnam's eco-friendly retreat centre, you are promised four days of relaxation, self-exploration, and space to begin your personal journey into this beautiful and grounding energetic healing technique.
Early Bird Rates (until 18 Jan, 2020)
#.1 private room: $1,640 USD / per person
#2. Shared twin: $1,375 USD / per person
#3. Shared couple: $2,750 USD / per couple
#4. Shared triple: $1,270 USD / per person
Full Price (after 18 Jan, 2020): #1 - $1,840 USD, #2 - $1,575 USD, #3 - $3,150 USD, #4 - $1,470 USD
SAVE an additional $50 USD when you book with Yoga in Vietnam. Keep scrolling for details.
Exclusive Discount
Book through Yoga in Vietnam and claim an exclusive $50 USD discount off the retreat rate.
rate with yiv discount
#.1 private room: $1,590 USD / per person
#2. Shared twin: $1,325 USD / per person
#3. Shared couple: $2,700 USD / per couple
#4. Shared triple: $1,220 USD / per person
To save your mat, a non-refundable deposit of 16% of the retreat rate is required. The remaining balance is due directly to the organizers.
About the Retreat Host & Facilitators
This retreat is organized and hosted by Gratitude Vietnam, with healing sessions by Naomi Rowan.
Gratitude Vietnam is a welcoming, eco-friendly oasis of total relaxation, peace and tranquility. With a pool, 8 ensuite bedrooms, meditation room, garden, and purpose-designed outdoor space sheltered from the elements, the villa is perfect for hosting healing retreats or accommodating large groups for a private holiday or event. Gratitude Vietnam takes care of every part of your journey, making sure everything is as you'd like it to be.
"Everything is energy, everything is vibration." ~ Naomi "Formally a music teacher and pastoral leader of 12 years, my 'previous' life was focused on bringing young people into alignment with themselves. I helped children develop their confidence, nurture self-worth and find their creative energies, so often quashed by the need to achieve and succeed.
Having taken a leap of faith and left a stable career to pursue a lifetime passion for mindfulness, meditation and energetic healing, I am now a Reiki Master/Teacher, Sound Bowl practitioner and retreat leader, and fortunate to be in a position to combine the tools and experience of the teaching profession with my core beliefs and practices.
A 'trauma' geek (and trauma aware), I am driven by the concept of the body-mind connection, whether neuroscientific, energetic, physiological or psychological. I believe that modern science is only now beginning scratch the surface of ancient wisdom; being aware of our thoughts, bodily sensations, intuition, actions and reactions enables us to retrain our habitual patterns into a life of gratitude, love and compassion – towards self and other.
Through my own journey, I have explored various practices and found many tools along the way that make individual empowerment possible. All of our retreats are carefully planned and tailored to give you a gentle, powerful journey of self, and time to explore how you can embed these tools into your daily life, once you leave the safe bubble of 'time out'."